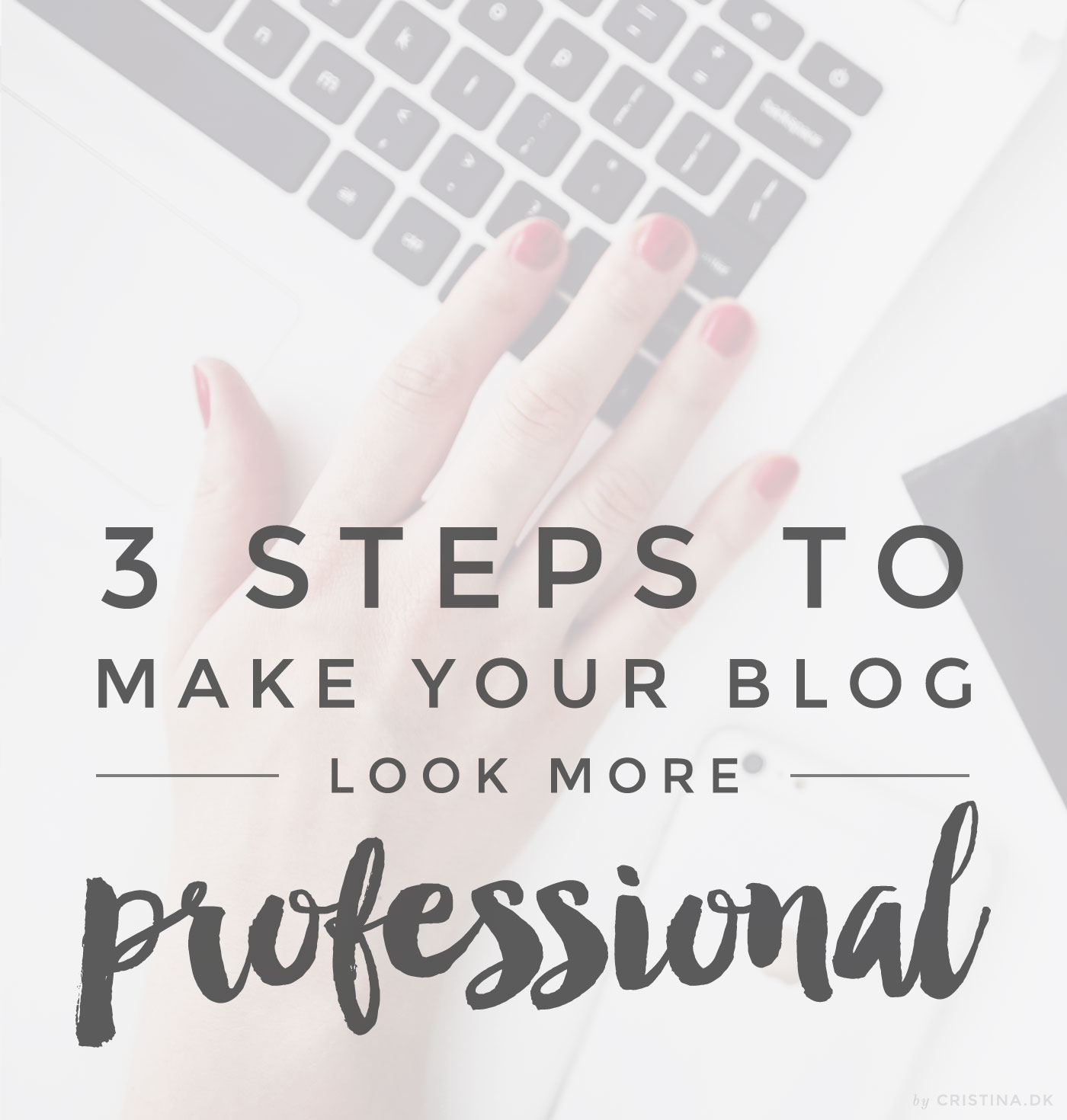 I think most bloggers would like their blog to feel professional. Perhaps you'd like to get more sponsorships or other opportunities, or maybe you'd just like your readers to feel that you're credible. Allow me to help with that!
Here are 3 steps to a more professional blog…
1.

Add "About Me" and "Contact" pages

Listing your email address in the footer or sidebar of your blog is not enough. A contact page will make you seem approachable and prepared for inquiries. And if you add a contact form, even better! For WordPress users, I highly recommend installing the Contact Form 7 plugin. I use it myself; it's easy to set up and works like a charm!

Until very recently, I didn't have an About Me page. Writing about yourself is hard, so I put it off. Now that I finally finished it, I'm so glad I took the time to do it, cause I've already gotten compliments on it! People want to get to know you. They like reading about who they're gonna be following or working with. An About page also shows that you made an effort; that you cared enough to sit down and write about yourself.
2.

Buy your own domain name

I got my domain cristina.dk after waiting for it for 2 years! I don't recommend waiting that long, but I'm stubborn and really wanted my name. Whichever name you choose, having your own domain shows that you're serious about your blog. Let's face it: myblog.com just looks more professional than myblog.blogspot.com. It also shortens your URL, making it easier for people to remember it.

And as an added bonus, most domain hosts allow you to create your own email address as well — Sure, we all love Gmail, but once again, it looks just a bit more professional to have your email address end in myblog.com instead of gmail.com. It's the little things.
3.

Invest in a blog design template or a custom blog design

Easy for me to say, right? ;) Listen, you don't have to buy your blog template or blog design from me. But please, buy it from someone. Your blog will thank you for it.

I've seen the difference a good blog design can do for a blog. Having great content is important, but it's not enough. Your blog needs to look the part, too. If your blog is confusing to navigate or if the text is impossible to read, visitors won't stay long enough to actually read your posts. And isn't that the whole point of having a blog?

What you want is a clean, minimalist blog design. A blog design that complements your content, but never overshadows it. A blog design that makes you seem professional and makes your blog a nice place to be. A place that your readers will subscribe to and keep coming back to.

Got any additional tips? What do you do to make your blog feel more professional? Let me know in the comments!

Posted