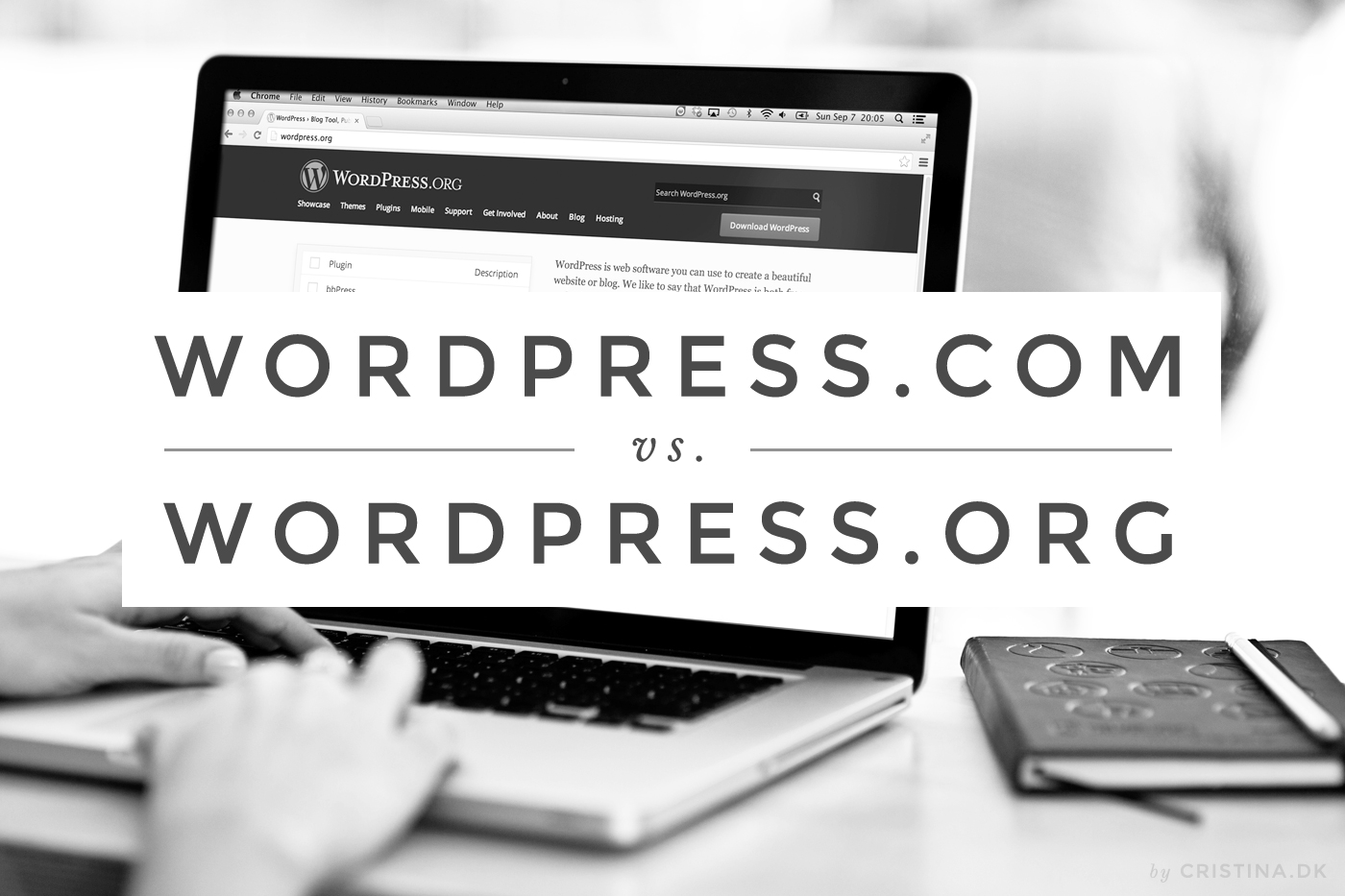 People often ask me if my premade blog themes will work on their WordPress blog. The first thing I always reply is: "Is your blog on WordPress.com or is it self-hosted?" This question usually causes confusion, which I completely understand. There are two kinds of WordPress, and figuring out which does what can seem like a puzzle. So to clear up the confusion, I figured I'd explain the difference between WordPress.com and WordPress.org (also known as Self-hosted WordPress).
Getting started
Creating a WordPress.com account is free. Your web address will be example.wordpress.com. If you prefer a custom domain name, like example.com, this is an upgrade that starts at $18 per year.
Self-hosted* WordPress is free to download at WordPress.org. Before you download, you will need a domain name (example.com) and web hosting. WordPress recommends these web hosts. Hosting usually starts at $5 per month.
* It's called "self-hosted" because you host your site yourself, or at least WordPress doesn't host it for you. That's what the web hosts are for.
Themes
WordPress.com currently has 296 free and premium themes for you to choose from. However, you won't be able to install any themes from third-parties (such as Etsy, ThemeForest, etc). This is why my themes don't work with WordPress.com.
Self-hosted WordPress lets you install any theme from any site, which allows you to choose from thousands of free and premium themes from around the web.
Customization
If you buy a Custom Design upgrade ($30/yr per blog), you can change the colors and fonts of your WordPress.com theme — no coding involved. If you do know code, you can use the CSS Editor. However, you don't have access to any of the theme files, which means that you won't be able to change the structure of your theme.
Self-hosted WordPress gives you full control over the customization of your theme. You have access to all theme files, which allows you to give your site a unique look through coding.
Plugins
While WordPress.com includes the functionality of some popular plugins, you won't be able to install any custom plugins.
Self-hosted WordPress allows you to install any plugin, which means that you get to choose from the millions of free and premium plugins available on the web.
Maintenance
On WordPress.com, you don't have to worry about updates, backups or security — the platform's team takes care of all of this for you.
On Self-hosted WordPress, you're responsible for updates, backups and security. Luckily, WordPress updates only require you to click an 'Install Update' button, and there are several plugins that can help you back up your site and keep it secure.
Advertising
Some, not all, affiliate links and sponsored posts are allowed on WordPress.com, but you are not permitted to use image ads or third-party advertising solutions (such as Google AdSense and others). Bloggers with very high traffic and a custom domain can apply for WordPress.com's WordAds feature, which allows you to run pre-selected ads and share in the income.
WordPress.com will sometimes display ads on your blog. To completely remove ads from your site, you'll need to buy the No-Ads feature for $30 per year.
On Self-hosted WordPress, being your own boss means that no ads will appear on your site unless you want them to. You're also free to use any kind of advertising.
Other important differences
Another important difference to note is that you can't use Google Analytics on WordPress.com – you can only track your stats using their own system. And while you have to comply with the Terms of Service on WordPress.com, the only rules you're bound by on Self-hosted WordPress are your own.
Which one should you choose?
I tried to keep this as objective as possible, but I do prefer Self-hosted WordPress because it gives me complete control over my site. WordPress.com is free and simple, but if that's what you're looking for, I would suggest Blogger.com instead, as it doesn't have as many limitations. Keep in mind, this is only my opinion.

I hope you enjoyed this post — hopefully I managed to clear up some of the confusion!

Which blogging platform do you prefer?

Posted